Belt Systems
Systems are available in single or multi-stage configurations to suit virtually any type of cleaning application including washing, rinsing, phosphating, rust inhibiting, and drying. Automatic chip removal can be added to the system.
Belt systems can accommodate a wide variety of part sizes and geometries using standard open weave conveyor belts or custom designed fixtures. Manual or automatic load and unload systems are available.
Rugged stainless steel tanks and enclosures provide superior durability, chemical resistance and quality appearance. Systems can be equipped with all popular heating systems including electric, gas or steam.
Standard features include:
The tank and upper housing are constructed of 10 gauge, 304 stainless steel. 2" mineral wool insulation is covered by 16 gauge, polished, 304 stainless steel skin. Vertical centrifugal pumps with carbon steel wetted parts are sized for the most effective coverage within the spray stage. Internal spray headers are designed to surround the parts and provide complete spray coverage throughout the cleaning process. A mild steel bag filter follows each pump. Each filter has two (2) pressure gauges to indicate the need for a filter bag change. Dual stainless steel mesh screens protect the pump suction. Tanks are heated by stainless steel element immersion heaters designed to maintain the specified temperature. Automatic liquid level controls fill the tanks and protect the pumps and heaters. Each tank top is equipped with a maintenance access removable lid. Each process stage of the upper housing has a lift out access door that allows easy maintenance entry. A window can be added to the lift out doors to allow process viewing. Standard units have 1" x 1" stainless steel flat wire belts. Different belt opening sizes and construction materials are available. The dry off stage has a stainless steel tubular heater following a regenerative blower. A filter, relief valves, and gauges are assembled with the blower. Stainless steel air knives are positioned to direct air to all sides of the parts being processed. NEMA 12 main control panel with IEC electrical components. All guarding and labeling meets OSHA standard requirements.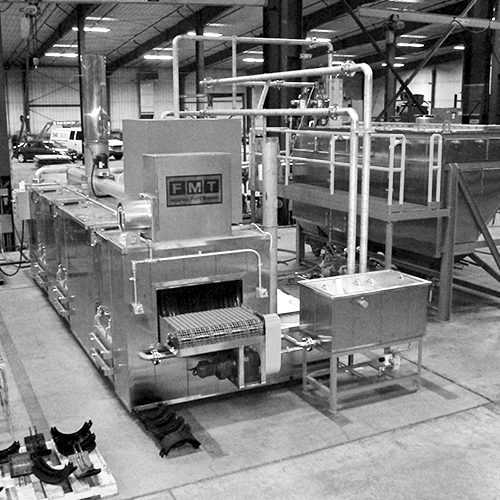 High Volume, efficient cleaning and drying of a wide variety of parts
Load Parts directly on the belt or into containers
Standard width sizes 8", 12", 24"36" and 48"
Can be set up for continuous or indexing cleaning process
Allen Bradley controls
Mild and stainless steel construction
Chip trays in all solution stages