Rotary Basket
Rotary basket washers are designed to accommodate a wide variety of part sizes and geometries using standard or specially designed baskets and fixtures. Best suited for batch, precision and ultrasonic cleaning, typical rotary basket washers come in 2, 4, 6 and 8 basket capacities.
Features and Options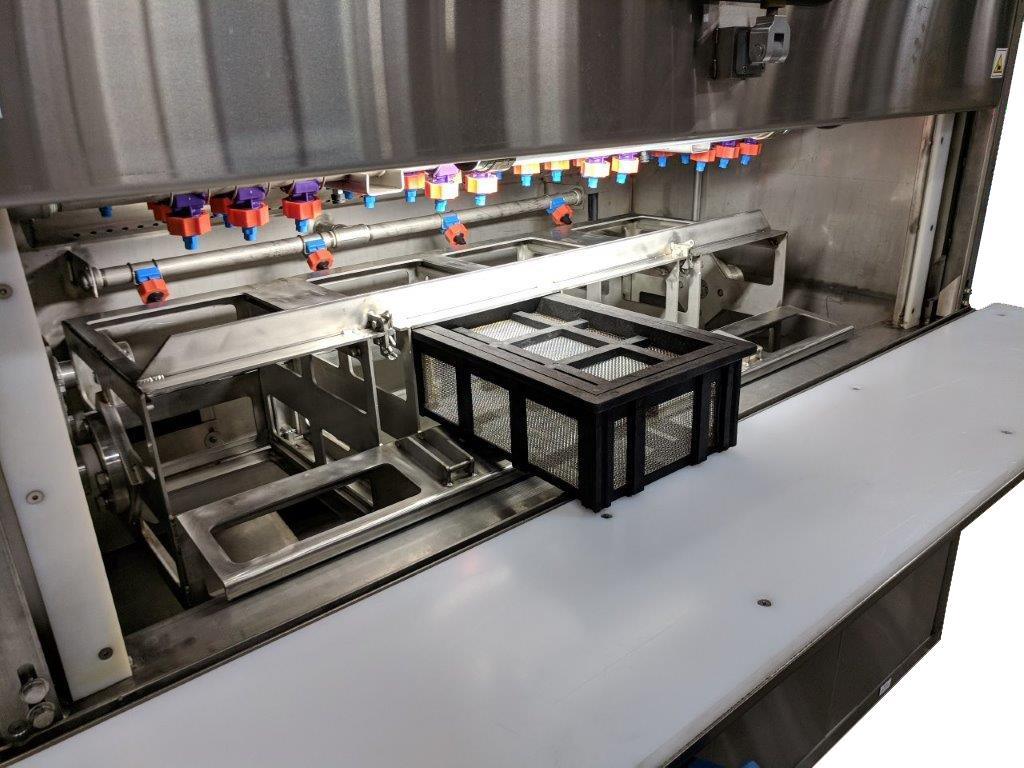 Rotary basket machines can be configured for spray, partial immersion or full immersion; and include ultrasonics as an option. A full list of possible options are provided below. Give us a call to discuss your specific rotary basket washer requirements.
Options:
Multi-stage (wash, rinse, blow-off)
Additional wet stages (pre-wash, phosphate coating, rust preventative, fresh water rinse, RO or DI water rinse)
Custom part fixtures and baskets
Automated loading and unloading
Stainless steel solution pump
High-pressure and high-flow applications
Additional filtration options (progressive, multi-bag, cartridge, magnetic, etc.)
Filter pressure monitoring systems
Additional heating options (gas, steam)
Additional controls options available (relay logic, Siemens, Mitsubishi, Omron, etc.)
Oil separation (disk skimmer, belt skimmer, coalescer)
Sludge management (drag-out conveyor, clarifier)
Powered exhaust (exhaust fan, mist collector)
Noise reduction package
Direct clean or standard
Automated or manual rotation
Heated rinse
Heated dry
PLC and HMI
Door actuator
Manual or automatic load/unload
Spray/immersion wash and rinse
Line rinse and dry
Ultrasonic wash and rinse
Features:
Single-stage wash
Precision spray nozzles
2" inch cabinet sound-proofing
Welded pipe joints for leak-free operation
Heavy-duty, reliable components
Heavy gauge stainless steel construction for optimum life
Mineral wool insulation for energy conservation
Electric solution tank heater
Automatic level controls w/ low level protection
Robust drive system with variable frequency drive
Cast iron solution pump with bag filtration system
Allen Bradley PLC & HMI controls
Made in the USA quality