Tank & Generator Series
The Sonicor "BandScanner" series is the benchmark for efficiency and reliability, among industrial ultrasonic tank/generator systems. With standard tank sizes from 2.5 gallons to 60 gallons, and a wide range of available operating frequencies, these heavy-duty units can handle any ultrasonic cleaning application, and withstand the harshest industrial environment. The Sonicor "BandScanner" series, sweep frequency ultrasonic generator offers cutting edge technology, and a full range of control options and features to assure process consistency needed for even the most critical cleaning applications.
Standard Features:
Heavy gauge, all stainless tank construction
Stainless steel tank skirt
High-efficiency Sonicor Piezoelectric transducers
Modular, sweep-frequency power oscillator
FCC compliant EMI suppression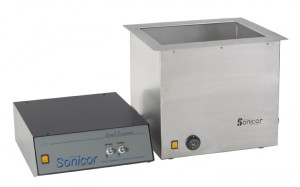 Console Systems
Aqueous Ultrasonic Clean/Rinse/Dry Self-Contained Console Systems
Sonicor "CPS" series consoles offer a complete parts cleaning process line, housed in a rugged, all stainless cabinet/countertop assembly. Standard consoles are available in either three stage CPS3, (ultrasonic clean/rinse/dry), or four stage CPS4,(ultrasonic clean/rinse/rinse/dry) models.
All CPS series consoles are equipped with the following standard features:
Sonicor "BandScanner" sweep frequency ultrasonics
Spray-over immersion on rinse tanks
Two stage counter flowing rinse (CPS4 only)
Auto-reset cycle timers on ultrasonics & dryer
Stainless drip diverters between process tanks
Single point electrical supply connection
Low level protection for all heaters & ultrasonics
Stainless, front access fill & drain valves
All Stainless cabinet, countertop, tanks & supply plumbing
Adjustable overflow on rinse tanks
Filter system on stage 1 ultrasonic cleaning tank
Digital temperature controls on all process tanks
Stainless lift-off cover on dryer
Single point drain plumbing connection
CPVC drain plumbing