Front Load Tumble
Vixen's front loading Aquablast tumbler machine range is designed to finish batches of components using the wetblast process automatically. The machine operates using a PLC controller.This controller is programmed with the various functions so as to produce a consistent finish on batches of components. Various drum designs are available as well as rinse options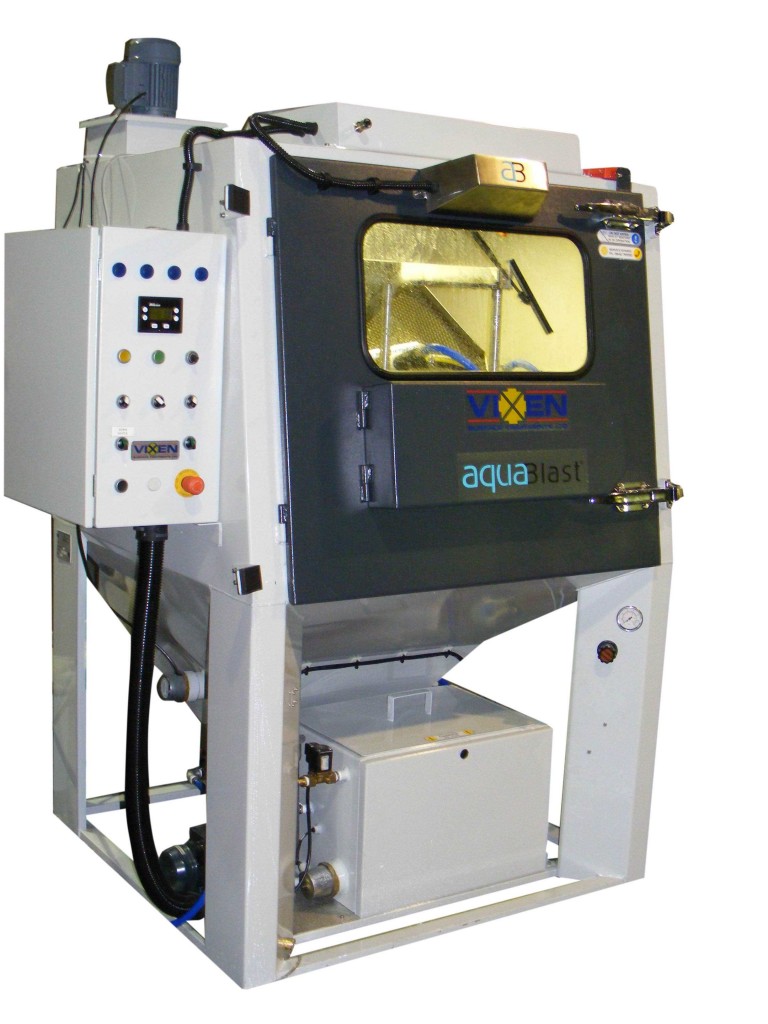 Robo Wet Blast
Vixen have launched a revolutionary automated wetblasting machine complete with a robotic blasting arm – the Robo Aqua Blast.
This revolutionary new machine is designed to maintain a consistent finish on components and speed up application times in a busy workplace.
The Robo Aqua Blast uses Vixen's wetblasting technology to simultaneously blast and wash components using water borne abrasive. The use of the robotic arm in this process ensures that components are blasted consistently during the application.
The main feature of this machine is the 1.4 metre high robotic arm, used to automatically blast the components. This is particularly effective at creating a consistent high standard of finishing on parts in the blast chamber, and can repeat processes with extreme accuracy (up to 1mm).
The machine is controlled via a teach pendant and touch screen Human Machine Interface Unit (HMI), and has the ability to store hundreds of programs into its internal memory. This programs the robotic arm to move over seven axes across the component, initially to blast and then rinse. Ultimately, numerous components are perfectly blasted with precise repeatability.
The Robo Aqua Blast was designed to blast large and heavy components used in the aerospace industry. Vixen integrated a 1.5 metre roll in / roll out turntable with an auto load facility, to easily load and unload the turntable and component with minimal manual handling using a mounted control panel.