What is Wet Blasting?
Wet blasting is a less aggressive form of blasting in comparison to dry blasting, working just as effectively. The ricochet of media is reduced due to the cushioning effect created from the water acting as a lubricant between the media and the component surface. As a result, the angle of the media is changed, producing a lapping effect travelling across the surface, resulting in an even satin/ polished finish.
The illustrations below show the different processes of grit, bead and wetblasting.
Diagram 1 Grit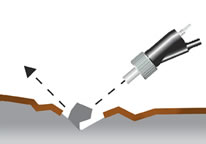 Diagram 2 Bead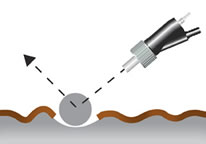 Diagram 3 Wetblasting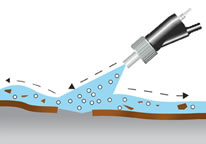 Unlike dry blasting where the finish is produced by sheer force of media impact, wetblasting does not allow for media to be impregnated into the component, nor is there any dust created by the break-up of media. In the UK, 'SMART' alloy wheel repair specialists have taken full advantage of its dust free process, as it means numerous tasks can be carried out simultaneously without the worry of dust spreading and impacting other areas of work.
Benefits of Wetblasting
One of the main benefits of using a wetblasting process is that the media/ slurry can be recycled. A specially designed glandless polyurethane pump agitates water and media into a slurry and pumps it to the blast gun. In order to accelerate the slurry to provide an excellent cleaning effect, compressed

air is added at the blast nozzle. Once contact has been made between the slurry and the component, the slurry is drained back into the sump creating a recirculating system. Broken down media is fed via an overflow to a sedimentation filter located at the rear of the cabinet.
For small components the tumbler barrel, which is fitted to the cabinet door, will be used. This gently tumbles small components (e.g. nuts and bolts) whilst they are simultaneously blasted. The base of the tumbler barrel is perforated allowing the slurry to exit the barrel and recycle via the machine sump. A gun holder will be fixed inside the machine for the tumbler barrel.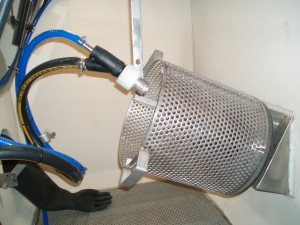 Download our information brochures: